IF YOU WANT A HEALTHY HEART, PLEASE...
DON'T FALL FOR THE LOW-FAT DIET FAD!
If you are concerned about the health of your heart, as many of us these days are, you are most likely concerned with moderating your fat intake and counting calories.
While maintaining a diet low in fat can sometimes be helpful in reducing the body's levels of LDL cholesterol ("bad" cholesterol), these diets often do not offer a complete solution to heart health because they do not capture the whole picture. Many people who eat a diet low in saturated fat and exercise regularly may often experience no change in cholesterol levels due to dyslipidemia, or a familial over-production of cholesterol by the liver. In these individuals, it is important not only to moderate fat intake, but also to include substances that naturally help reduce cholesterol.
Additionally, many fad low-fat diets claiming to be healthy can often rob you of important unsaturated fats, such as Omega 3 fatty acids. Omega 3 fatty acids not only can help lower cholesterol, but also help reduce inflammation throughout the body.
Here's what you should know right now to help
:
Decrease Triglycerides
Lower blood pressure
Reduce blood clotting
Boost immunity
Improve Arthritis symptoms
Reduce the risk of heart disease
Dr. Moshrefi's Heart Health Complexes address all of these problems...and then some!
| | |
| --- | --- |
| Dr. Moshrefi's Cardiac Lipid Complex | Dr. Moshrefi's Omega Complete |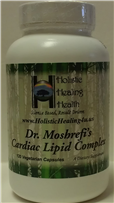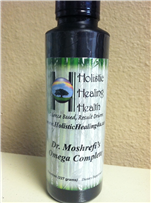 Dr. Moshrefi's Cardiac Lipid Complex:
This formula helps reduce cholesterol synthesis by suppressing an integral enzyme involved in cholesterol production, although more subtle than prescription statin medications. It can also help:
Support favorable modulation of blood lipids naturally

Protect lining of arteries

Reduce inflammation and oxidative stress, both known to be associated with heart disease ($62.00)
Dr. Moshrefi's Omega Complete:
Dr. Moshrefi's Omega Complete is a delicious tasting, high potency, emulsified fish oil product that can help:
Reduce inflammation

Protect arterial linings

Improve learning ability and memory

Improve arthritis symptoms

Reduce cholesterol

($40.00)
Save money, and feel better about the health of your heart!
Get them both in February for only $90.00

Holistic Healing Health is featuring a "Cold and Flu Appointment" for only $100!


If you are battling with cold or flu and would like to discuss natural remedies with Dr. Moshrefi, please call our office to schedule your Cold and Flu Appointment.
Appointments will be scheduled within 72 hours.
For more information on Ionic Detox, please click here.
For more information on Holistic Health and Nutrition Consultation, please click here.
Follow us on Twitter, @holistic_heal4u